---
Founded in 1996 in Cheshire, UK Protea's goal has been the development and introduction of new technologies for the online measurement of gases in industrial and research applications, to help control process and reduce environmental emissions. We have two manufacturing plants in the UK; the state of the art facilities are located in Middlewich, Cheshire and Peterborough. Since 2015, Protea has been part of the Bartec Auto ID Group of Companies.
We manufacture a range of extractive and in-situ analysers, applying the technologies of IR, FTIR, UV, TDL and Mass Spectrometry (QMS) in portable and fixed gas measurement systems. In particular, we are specialists in the design, manufacture and supply of Continuous Emission Monitoring (CEMS) and process analyser systems. As a flexible and agile manufacturer, we also offer custom equipment, requiring a high level of R&D; new developments feed into our core products and markets.
---
The monitoring of environmental emissions has been a key driver for Protea and our analyser development over more than 20 years. Protea's analysers embody many advanced and proven techniques, such as an ability to monitor multiply gas species with one instrument.
Key to this is our MCERTS Manufacturing and Product Certification for a number of analysers – both portable and fixed emissions products. Protea is quite unique as a UK manufacturer who can not only supply and support all our emissions systems, but is the manufacture of the core analyser technology also. Protea are committed to constantly achieving national and international approvals to comply with the requirements of Environment legislation globally.
Our instruments are able to continuously monitor stack and process gases in demanding applications with a high degree of accuracy and repeatability as required by the environmental agencies and process control engineers. Due to ease of installation and low maintenance requirements, the Protea range of analysers are a cost effective solution.
---
A key emissions application where the Protea range of in-situ analysers benefit from their ease of installation and low maintenance is in emissions monitoring on-board ships. With MCERTS and Type Approval from a number of classification societies, Protea's analyser have been proven over many years on board vessels all around the world. Our global Marine Network of support and service engineers can ensure the analyser have high up-time and are performing to the stringency requirements of international maritime legislation.
Product Range
| | |
| --- | --- |
| Fourier Transform Infrared (FTIR) | atmosFIR Range |
| UV Diode Array | P5000 |
| Quadrupole Mass Spectrometer (QMS) | ProMass |
Locations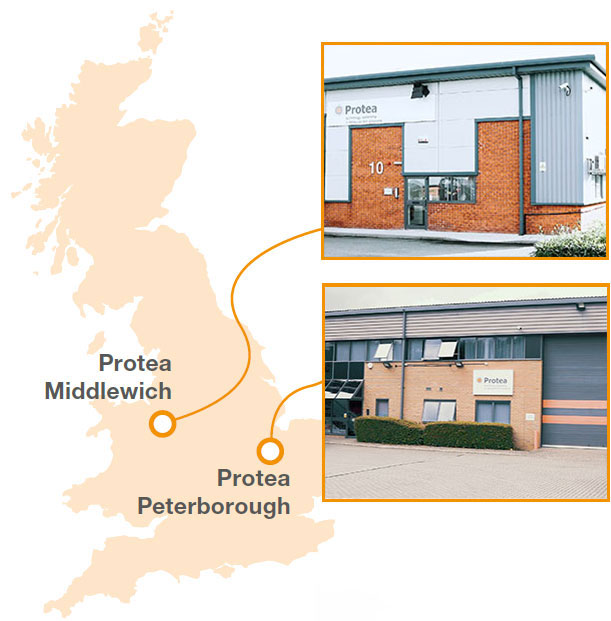 ---
Protea was the first company in the UK to push the benefits of on-line continuous FTIR analysis in a wide range of industries, with our knowledge of FTIR spectral analysis and chemometric methods enabling FTIR to measure hundreds of gases. Protea have developed our FTIR gas analysers to meet the requirements of researchers and industrial operators alike. With the ability to customise the hardware and software, we can get the most out of this powerful technology.
---
Protea offers exceptional sales and after sales support to its customers through a highly trained and motivated worldwide distributor network. We run regular training in product service, applications and data analysis. Both our locations are in easy reach from major UK airports and rail services. Protea comprises a team of dedicated staff, the majority of whom are engineering, science or marketing professionals who provide service and support to our Customer and Distributor network.
Industries Served
---

---