AQE / WWEM 2018 From Dirty Diesel to Clean Carbon Dioxide & Biogas
29th November 2018
Following on from the Quality and Environment exhibition and the Water, Waste Water and Environmental Monitoring show on the 21st and 22nd of November, Protea have appeared in an online article focused on "dirty diesel to clean carbon dioxide and biogas". The full article can be seen by clicking the image below and there is more information also available below the image from the article.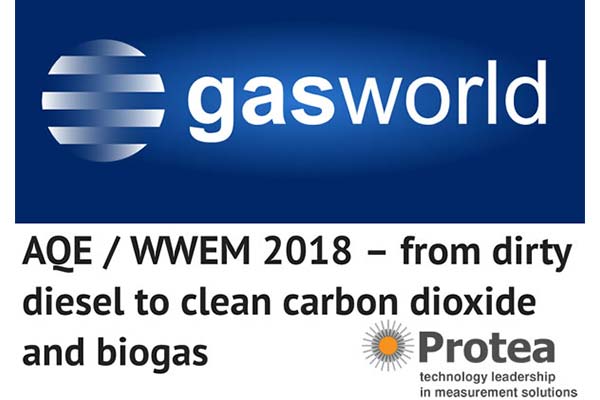 To monitor and control this potential issue, measurement of siloxanes in a matrix of biogas can be achieved using FTIR instrumentation. Victoria Brewster, Product Leader for Spectroscopic Solutions at Protea commented to gasworld on the analyser that her company offers for this application:
"Protea used to operate a UKAS accredited stack emissions testing laboratory as well as manufacturing analysers. But, we were never really satisfied with the instrumentation that was commercially available for some of the more exotic challenges that this sector presented to us. So, we began to innovate our own instrumentation and data analysis software. Over the years, this has evolved to the highly sophisticated and robust solutions that we have brought to the AQE this year, including our atmosFIR, which is ideally suited to sub-ppm level siloxanes analysis in the biogas sector," said Brewster.
Other Articles
22nd September 2023
18th September 2023
12th September 2023
04th September 2023
29th August 2023
21st August 2023
14th August 2023
08th August 2023
04th August 2023
01st August 2023