The accurate calibration of gas analysers is critical, during factory build, routine service but also for on-going field assessment of analyser performance.
Protea has developed the atmosCAL Gas Blender to enable dilution of high concentration gas cylinders over lower concentration ranges, in order to calibrate gas analysers – allowing characteristics such as absolute reading, repeatability, reproducibility, linearity and response time to be tested on analysers.
Using multiple Mass Flow Controller (MFC) technology, generating required gas concentration is as simple as typing into the touchscreen the desired concentration and choosing the flow rate. MFC technology operates on the principal of thermal mass, and different gases require compensation.
The atmosCAL embedded software is pre-loaded with a range of compensation factors so the majority of gases can be used with the atmosCAL without adjustment.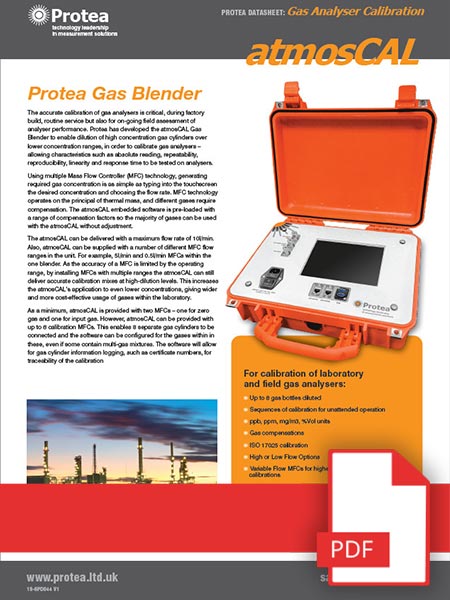 ---
For calibration of laboratory and field gas analysers:
Up to 8 gas bottles diluted
Sequences of calibration for unattended operation
ppb, ppm, mg/m3, %Vol units
Gas compensations
ISO 17025 calibration
High or Low Flow Options
Variable Flow MFCs for higher accuracy low-level calibrations
Coated parts for reactive gas calibrations
Modbus and Analogue Inputs for Gas Analyser Data Logging alongside calibration values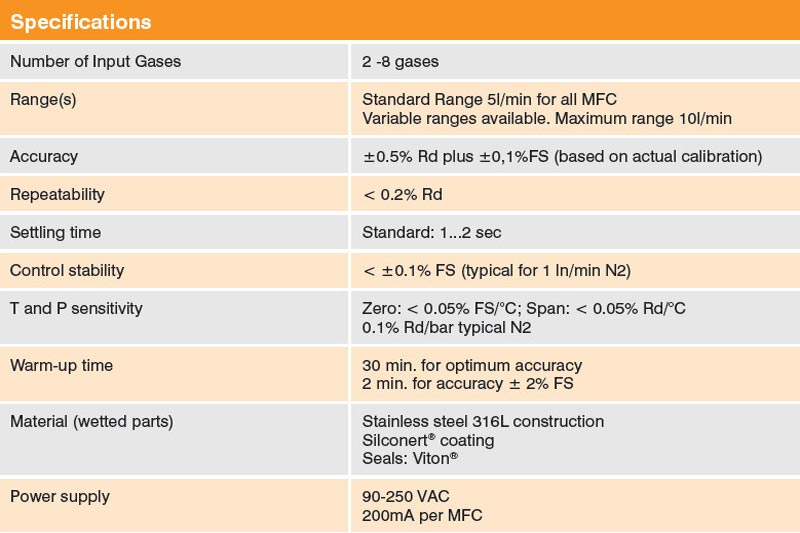 ---