atmosFID CEM Integration
atmosFID is a Flame Ionisation Detector (FID) analyser from Protea that can give Total VOC (TVOC) measurement in stack emissions and process applications. atmosFID is certified under EN 15267-3 and MCERTS for continuous emissions monitoring (CEM) applications. The benefit of atmosFID from Protea is that it works alongside, and seamlessly integrates with, our other range of stack emissions gas analysers, such as the atmosFIR FTIR multigas analyser. Both FID and FTIR operate together with the same software control and data logging, giving a fully integrated and supported solution from a single UK manufacturer.
atmosFIR CEM with atmosFID TVOC analyser
Protea is a UK manufacture of complete CEM systems and as such the atmosFID TVOC analyser can be provided integrated within our CEM system for combined operation with multigas FTIR.
Protea will provide a complete CEM with FTIR + FID that will include:
Common sampling system control i.e. heated line and probe alarms
Common QAL3 validation system
Complete internal heated sampling path, using atmosFID heated line control
No mechanical pumps for sampling, less consumables
Complete health monitoring for FTIR + FID together
All emissions data collated, Dry/O2 corrected and available for reporting over single Modbus or OPC communications protocol

---
PAS-Pro CEM Software
Protea's combined FTIR + FID CEM uses a single software platform, PAS-Pro, that does not just record the gas readings for atmosFID but offers full health diagnostic and control of the FID along with the FTIR.
By taking a modular approach, Protea can build a system with analyser and sampling control modules that can offer customisable features in a standard product suite.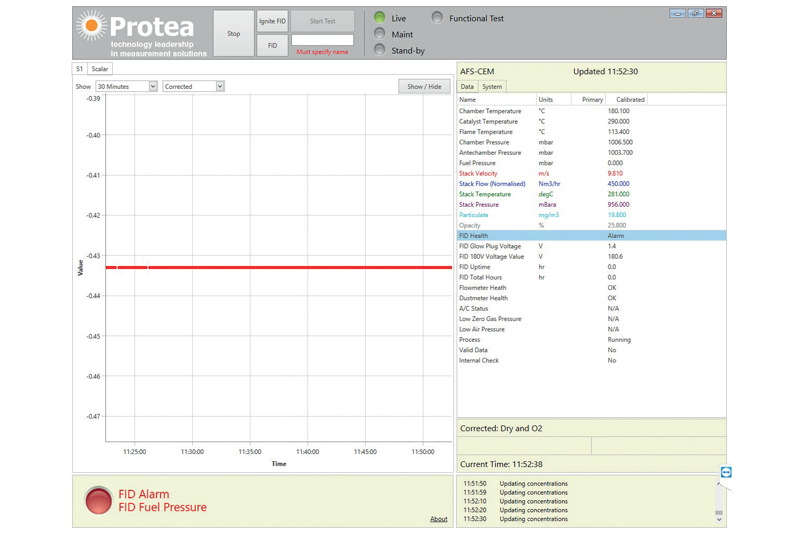 PAS-Pro CEM software gives full FID alarm and health status as well as FTIR analyser control and integrated results for flow and dust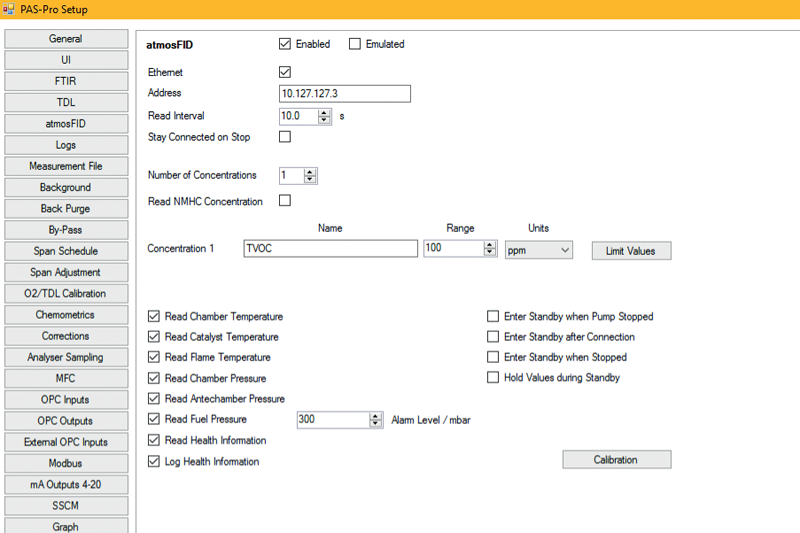 PAS-Pro CEM software gives full control of FID settings, alarms and calibration schedules

---
Service Schedule and Settings in Software
Managing and recorded service of CEM systems is of increasing importance. As a supplier of a complete integrated CEM system, Protea's CEM software allows for recording of both FTIR and FID service actions and items replaced. The software logs all changes made to the configuration so alterations to system operation are auditable.
Next service scheduler
Standard replacement part logs
Service notes
Log of all changes to software configuration